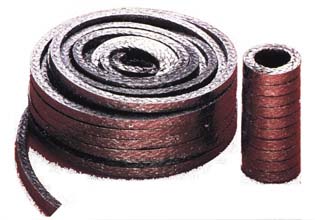 Style 6400 Flexible Graphite Packing
Giant advances in technology now provide RaloTex customers with the unique ability to easily install and extend packing life in pumps and valves with our exclusive braided flexible graphite. Ralbraid 6400 is resilient, self-lubricating, chemically inert, conformable, and thermally conductive.
Application: High pressure steam, petrochemical, chemical, nuclear, power generation, valves, expansion joints, high temperature groove gasketing. Any application where heat resistance, chemical resistance, and pressure resistance is necessary.
Technical data:
Temperature: -240~+649 oC ( Steam )
PH: 0-14 Speed: 20 m/s
Pressure:
Rotating: To 30 bar
Reciprocating: To 100 bar
Static: To 200 bar
Product standard:
Size: 1/8" ~1", 3.0mm~25mm
Packaging: 8 M/box