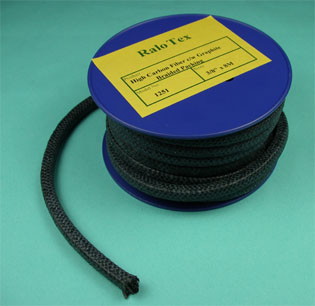 Style 1251 High Carbon Fiber With Graphite Braided Packing
RaloTex Style 1251 is made of a proprietary High Carbonized Fiber with Graphite Braided Packing made of special high temperature carbon yarns, impregnated with graphite mix.
It is able to bear high temperature and pressure, and helps prevent abrasion and also help to minimize the effects of electrolytic pitting of the valve stem.
Application: All fluids, chemical and petrochemical industries, power stations against steam, water, oils, strong alkalis, strong acids and chemicals for pumps and valves.
Technical data:
Temperature: -200~+650 oC
PH: 0-14 Speed: 25 m/s
Pressure:
Rotating: To 25 bar
Reciprocating: To 100 bar
Static: To 300 bar
Product standard:
Size: 1/8" ~1", 3.0mm~25mm
Packaging: 8 M/box