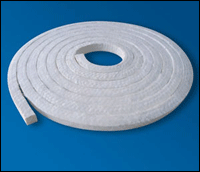 Style 1223 Sythetic Fiber Packing with PTFE
Sythetic fiber thoroughly impregnated with PTFE, a break-in lubricant is
added for start-up.
An economical PTFE general service packing
Application: RaloTex Style 1223 is a smooth, cool running packing for a wide variety of uses in a plant. Particularly useful on water and mildly abrasive slurries, solvents and chemicals in reciprocating and centrifugal pumps, mixers and valves.
Technical data:
Temperature: -100~+250 oC
PH: 2-12 Speed: 12 m/s
Pressure:
Rotating: To 40 bar
Reciprocating: To 80 bar
Static: To 150 bar
Product standard:
Size: 1/8" ~1", 3.0mm~25mm
Packaging: 8 M/box