Refurbishment Services
Chin Cheung
can provide a full refurbishment service for used mechanical seals, to bring them back 'as new'. The cost of this service is typically about 40% of the cost of a brand new mechanical seal. We will physically have to inspect the mechanical seal to ensure that it is suitable for refurbishment and will be able to provide a quotation as this early stage.
All these services are as follows:
-Cleaned or sand blasted, inspected for factory tolerance,
-Supply new faces if required (otherwise lapped), new springs, new elastomer ( rubber boot or o-rings), new set screws,
-Upgraded by replacing Carbon faces with Silicon or Tungsten Carbide for better performance of seal.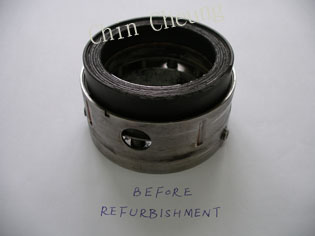 Before Refubishment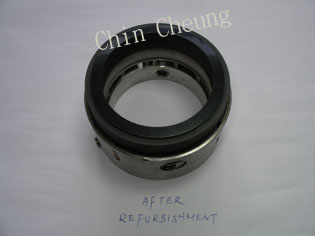 After Refubishment
If you have a mechanical seal for refurbishment, please call us on +852 2789-2028 to discuss further.