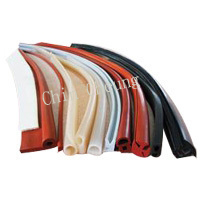 Sponge products & Profiles
Sponge products can be supplied in either PLAIN or SELF ADHESIVE BACKED form. Sponge rubber comes in two main formats, CLOSED CELL or OPEN CELL.
Closed cell sponges have no connecting cavities, making it ideal for applications where water exclusion and sound and gas retention are important. It is also much more resistant to compression and has excellent thermal insulation characteristics.
Open cell sponges have a greater compression set and are less shock absorbent.
Application:
Barrier to Moisture, Vibration Dampening, Sound Insulation, Dust Proofing, Sealing, Cushioning, Packaging, Gas Retaining.
Materials:
EPDM, Neoprene, Nitrile, Silicone, Viton, PVC and etc
Products Standard:
Available in Sheet, Cords, Section, Strip, and Tubing