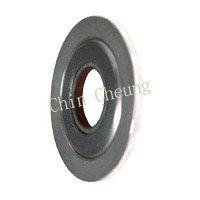 Spiral Wound Gaskets
Description:
Spiral Wound Gaskets are suitable for a wide range of operating conditions and can be adapted to suit almost all applications. The gaskets can seal fluid pressures up to 250 bar and temperature range of -200oC to 1000oC. The gasket is easy to install and remove and will not cause damage to the flange surfaces. A combination of winding materials and metals are available which enable the gasket to meet the requirements of varied operating conditions.
The sealing strips, or fillers, are usually graphite, although other materials such as PTFE may be used, the windings are always s/steal.
This spiral wound gasket has many variations and can be made from many different metals and may have an inner ring, outer ring, or both depending on application.
They are manufactured in accordance with API 601, BS3381, BS4865 and etc.
Application:
Spiral wound gaskets are used in Refinery, Petrochemical, Chemical, Steam lines and Process Industries, where they have many advantages over older types of gaskets.
It is used in flange joint of valve, pump, heat exchanger, tank, and handhole.
TYPE:
RALOTEX Spiral Wound Gasket is available in several styles.
WG, WG/IR, W/IR, W
Flange Standards:
Flange Standards for the above spiral wound gaskets can be manufactured in accordance with all relevant gasket standards and specifications to suit the following flange designations:
1. ASME / ANSI B16.5
2. BS 1560, BS10, BS4504
3. API 605 (ASME B16.47 SERIES B)
4. MSS SP44 (ASME B16.47 SERIES A) (AWWA)
5. DIN FLANGES, JIS FLANGES
6. FRENCH NF STANDARD