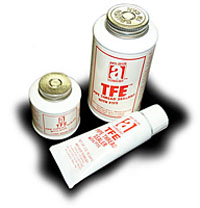 Pipe Thread Sealant with Teflon
TFE is a superior grade, non-hardening, easy to apply, heavy duty pipe thread sealant. It is formulated to a thick paste consistency, fortified with an extra amount of PTFE materials to insure a positive seal with less effort. TFE is designed for all pipe fitters, fabricators, plumbers and mechanical contractors. Because of its unique solids content, TFE fills thread imperfections and provides leak-proof joints that seal for the life of the connection.

TFE is recommended for pipe threads carrying water, steam, LP and natural gas, refrigerants, solvents, caustics, dilute acids, oils and diesel fuel. Withstands temperatures to 500°F (260°C) and pressures to 10000 (Liquid), 2000 psi (gas).
Product standard:
1/2 pint per Brush Top Bottle